Happy New Year!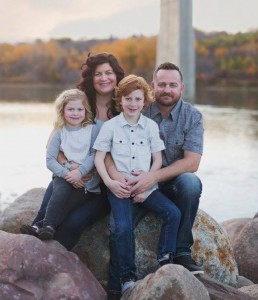 With the hustle and bustle of the holiday season behind us, I am filled with gratitude for everything that was 2015 and I am looking forward to 2016!
This year felt like my best yet, especially the holidays. I really think it is all due to the age of my kids. Jack, 7, and Sophia, 5, are becoming such fun, interesting, awesome little humans. I am definitely heading into the best years of my life with my kids. The saying "every year gets better" is bang on for me.
The same goes for my work. Entering my 16th year as a REALTOR ®, I can genuinely say I am as excited about my work today, as I was my first year. My passion and joy comes 100% from you, my clients! Since I started in real estate, I have never had a year where I sold less than the one before. As my volume increases, it's hard for me not to wonder if that trend will end. This year, I was amazed when I added up the deals and realized I sold 160 homes – up 30 homes from last!
Over the last year, I have received 50 referrals from my client base! My GRATITUDE is overflowing. Referral numbers like this are almost unheard-of. When I tell people I have the BEST CLIENTS ever, I'm not joking. I feel honoured, thankful and exceptionally grateful for your continued referrals! They mean more to me than you will ever know. My clients feel like my family, I care deeply about you.
Many of you might be wondering what the market brings this year. Edmonton and area will do better than other parts of the Province and Country. The construction and development projects that are currently in progress, as well as job growth in a number of smaller sectors will keep our workforce at stable levels. 2016 will remain a buyers market. For buyers looking to move up, this market can prove as a great time for you to take advantage of the smaller gap between your current home and the home you wish to move up too. Now more than ever, good advice will be the defining factor in real estate success. If handled well, this market offers great opportunities that aren't always available.
It's no secret that I LOVE my community. Sherwood Park is not only my home, but it's the place where I feel fully and completely myself. Serving the people in Sherwood Park, to me, is like looking after my family. This year, I was honoured to sponsor a number of special events in Sherwood Park. For me, this is about giving back to the community and families who have supported me over the years.
The events I was involved in this year, include:
The Mayor's Golf Tournament with proceeds going to Everybody Gets To Play. A program that provides funding for limited income families to give their children access to sports and recreational activities they otherwise couldn't afford.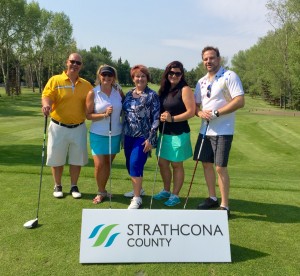 Celebration of Lights – Christmas is my favourite time of year. Being a part of this community event and giving families a chance to get pictures with Santa (at no cost) was a perfect way to kick off the season!!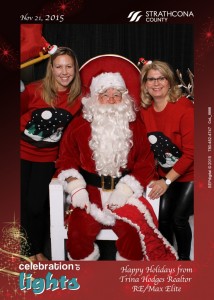 Winter Sky Show – I love fireworks and lightshows. Being a part of a spectacular New Year's show that brings the community together made my year!
In 2015, I received a Lifetime Achievement Award with RE/MAX. My husband joked, saying "are you really old enough to get a lifetime achievement award?" I agree on the age thing! However, the award is based on the number of years I've been with RE/MAX and the total volume I've done. Most people receive this award when they are nearing the end of their career, but I've reached the numbers and was honored to receive the award.
I wish you and your family a year of health, peace and happiness.
Best Wishes,
Trina Hodges