As a realtor in Sherwood Park, I have so much gratitude for all of my clients—each and every one of them is like family to me. It is so rewarding to have, in my home life, a wonderful family, but also, in my professional life as a realtor in Sherwood Park, a group of clients that I can consider to be part of my extended real estate family.
Real estate is a very intimate business: buying a home or moving is a major life milestone, and it can involve  some very emotional moments.Therefore, as a way to thank my clients, my real estate family, for trusting me as their realtor, I host a customer appreciation event for clients every second year.
A real family affair
This year's event was held on June 20, 2015, at the Edmonton Valley Zoo  with over 600 guests gathered to celebrate.  I thought the zoo would be a great location because it's, of course, perfect for families  and I know it's a wonderful spot in the region that a lot of my Sherwood Park  clients  want to get out to, but don't always find the chance.
Now, a night out at the Edmonton Valley Zoo isn't like going to a wine tasting or a formal dinner, it's a real family affair and no ba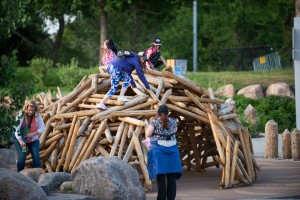 bysitters  are needed! A lot of my clients have young families (like me), so it turned out to be the perfect venue for everyone to come together and have some great fun. We got to visit the animals, check out exhibits (like an award-winning play structure called 'The Wander'—I've included a picture of it below)  and enjoy some extra special children's activities.
Here's a link to my photo album, where you can take a peek at all the fun we had!
Coming together
So, here's the best part about holding an appreciation event for my real estate family—I love getting  to see my clients, old and new, gather together in one spot.  As a realtor in Sherwood Park, any client I've ever had is important to me and it  is so nice to reconnect with  formerclients  and see how their families have grown and changed over the years.
Sherwood Park is  such a  friendly, tight-knit community, so-much-so that many of my clients already  know each other or have something in common,  making the trip to the zoo this year  a wonderful experience and smashing success.
As I reflect on being a realtor in Sherwood Park and my real estate family, I look forward to connecting with all my former clients year after year and, also, hopefully have you join  the family as well. I would love to help you  sell (insert or buy  your next home. I look forward to seeing you at the next customer appreciation event—where it'll no doubt be an even bigger family affair.