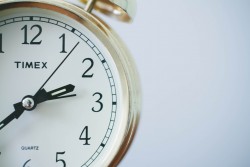 People who are at the top of their industry get there by doing something different than the rest. These people hold innate characteristics and qualities that get them to the top of their game.
Olympic athletes are considered the best in the world at what they do. One key factor that sets them apart is they put in more hours than the rest. On their journey to the top, when they fall, they learn from their mistakes and come out knowing more and doing better than before. They work and adapt their form until they find a powerful, Olympic stride of success. This success is consistent and it's their ability to deliver winning performances every time that makes them an Olympian.
Top real estate agents get to the top in much the same way. They put in more hours, work with more clients, close more deals, connect with more agents, and consciously look at how they can do better than before. These characteristics are what develop the ability to consistently deliver top results.
For the past SEVEN YEARS in a row, I have been the #1 REALTOR in Sherwood Park and Edmonton at RE/MAX Elite. Although I am proud to be #1, I have never been in this business for personal recognition. For me, it is always about helping others. So, when I started to really think about the extra VALUE my clients get from me being a top realtor, nine clear values came forward.
1. ADVICE BASED ON FACT
I sell over 160 houses a year, which means I physically see more houses in this community than almost any other REALTOR. This allows me to give my clients true, honest, factual advice based on my actual experience in the current market.
2. I KNOW THE COMMUNITY
Sherwood Park is my specialty. My entire career has been in this community. I know Sherwood Park and how it responds in different markets.
3. REALTOR RELATIONSHIPS
Closing as many deals as I do means I am constantly working with other REALTORS. These relationships allow me to access information on how other sellers and buyers are feeling in this market, and I use that information to support my clients through their experience.
4. I'VE BEEN HERE BEFORE
I've worked and succeeded through a market like this before. I know that staying ahead of the curve is how I bring the most VALUE to my clients.
5. LEARNED FROM MISTAKES
I've learned from past experiences when I could have informed my clients better at a certain point in the process. My job is as much about communication than anything else. I make sure my clients know what they need to know so they have the best real estate experience imaginable.
6. EARNED CONFIDENCE
My confidence comes from the fact that every single day I am actively working with buyers and sellers and closing their deals. I KNOW what to do in this market and any market.
7. TOP REALTOR MENTORS
As a top agent, I meet regularly with other top agents. I learn from them and continue to sharpen my skills based on their shared experiences.
8. LOVE FOR MY JOB
To stay #1 for seven years in a row, I have to LOVE WHAT I DO. When you work with someone who LOVES what they do, you get a level of service that just feels different.
9. LOVE AND RESPECT FOR MY CLIENTS
This is a people job. As a top REALTOR, I work with many, many clients during what can be one of the most stressful times in their lives. I have learned how to recognize and respect the differences in peoples' emotions, and I know how to guide them and help them see what might be a good decision or a bad decision. I CARE deeply for my clients and that is what drives me to do the very BEST for them.
I believe everyone deserves to have a positive real estate experience. My years of getting up, showing up as my best, and working hard is completely driven by my need to achieve the very best for my clients.
Good enough isn't enough for me and it isn't enough for my clients. I want the best, my clients want the best, and you want the best. I share I'm #1 with the sole purpose of it being my way to immediately communicate the ADDED VALUE you get by choosing a top agent.